sort by best latest
Mars in Libra during 2013/2014 is considered a slow planet for two reasons.
The first is that Mars is in the opposite sign to that which it rules (Mars rules Aries) and as such it is in a sign in which it cannot easily function. Mars is naturally a pioneering and independent planet and in the sign of Libra (which is all about the partner and doing things together) the natural "me-first" and "go-getter" energies of Mars are thwarted.
The second reason is that whilst Mars is in Libra it will be retrograde from March 1, 2014 until May 20, 2014. All planets go retrograde at some point in their cycle and Mars is usually retrograde once every two years in a different sign each time. This retrograde movement (or seemingly to go back) is an optical illusion, but the symbology is that of it not being able to exert its natural energy and independence.
Mars will be in Libra from December 8th 2013 until July 27th 2014 that is almost seven months which is much longer than the usual time spent in each sign for Mars of five to six weeks. The point is that Mars will take so much more time to travel through one sign (Libra's thirty degrees of the zodiac) than it usually does so it is considered slow.
This reduced speed leads astrologers to say that all Martian ruled activities (like starting new things and breaking ground on new topics) will be held back until Mars enters Scorpio on July 27th 2014. You also need to bear in mind that Mars rules the water sign of Scorpio and so all the positive Martian energy, drive and activity will be back at full throttle from that time onwards.
* * *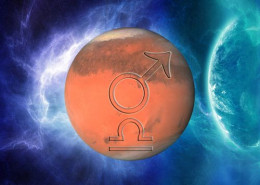 Mars is a planet symbolized by war, aggressiveness, and assertion. Mars is a planet who gets what it wants. It is a proactive planet. It is a participator in life. Aries, the first astrological sign, is active, aggressive, and assertive. It is natural that Mars is in its dignity in the sign of Aries.
Libra is the sign of peace. It does not like confrontation. It loves ease and beauty. Mars is considered to be in detriment in Libra because Mars is highly proactive and assertive.
Mars also loves action. Libra is not comfortable with assertion. It is not in your face. It believes in negotiation and diplomacy and Mars is the exact opposite. When Mars is in Libra, its energy is subverted and it becomes more passive. Mars, therefore, is weak in the sign of Libra. It is not as strong as it would be if it was in Aries.