sort by best latest
William Branham was a very humble man and a great prophet. Many in today's revival movements consider him to have been given the most accurate words of knowledge that anyone has ever given. He was the considered the most visable leader of the latter Rain revival in the from the late 40's till the late 50's. He had many powerful encounters with God from an early age and was used mightily in the healing ministry.
Roberts liardom wrote about him in his highly respected book, (Gods Generals). As far as I know, the vast majority of what liardon wrote was true, as he did extensive research into the subject. But from what I understand the prophet Paul Cain who is now in his 80's had actually been mentored under Branham, has refuted some of what liardom had written.
Apparently some Christians who sat under Branham teaching had claimed Branham had taught things that he had never taught. Unfortunately Branham began to get a cult like following that he never intended.
Tsadjatko first and foremost i am a proud follower of JESUS CHRIST my risen Lord and Saviour but GOD always use a man to speak to his people. He used Noah, Abraham ,Samuel, Nathan, Eli, Moses, Jeremiah etc. He use all his disciples to go into the world and preach the gospel to win souls for him , such were PETER , PAUL, JOHN, TIMOTHY, JAMES, MATTHEW etc. The list goes on and on, because he "Christ" isn't here on the earth in his physical form but rather spiritual, when he returns again he will come physically like he first came unto the Jews. WILLIAM MARRION BRANHAM was a vindicated man of God even from his birth and childhood he had great miracles and supernatural experiences. He lived what he preached and never declared himself to be anything great or famous, he was doing God a service, you nor anyone can stick any nasty finger at him and say he live unfaithful or unholy to his spiritual calling.
When you were a child you learned from your parents and follow the things you saw them do not so? If you are not called to follow or listen to any man that preach or teach the word outside of Christ. Then i think naturally you should not have followed what the teachers taught you at school, because somewhere along life WE MUST BE TAUGHT we do not know everything. People have classed most followers of WMB in the same category just as they class so called Christians and real Christians in the same category. We do not worship William Branham we do not or never will believe he was GOD , we believe he was a man/prophet sent and ordained of God to enlighten this wicked and perverse age and generation "the laodecian church age.
Get you facts RIGHT gifts and calling are without repentance so that other man you mention could of have a gift to heal but NO MAN CAN HEAL only God can heal is our faith in CHRIST that makes us whole. If you see people claiming to be of Christ and live unholy, break the word etc they are FALSE. William branham have made prophesies that came to pass how many have you made? or knew he lied about ?
SCRIPTURES :
Malachi 4: 5 ,Behold, I will send you Elijah the prophet before the coming of the great and dreadful day of the Lord:
Mark 16:15-16 . And he said unto them, Go ye into all the world, and preach the gospel to every creature. (This them was Jesus disciples ,William Branham was one)
John 3:19 - And this is the condemnation, that light is come into the world, and men loved darkness rather than light, because their deeds were EVIL.
He started out ok but took a wrong turn and became a false prophet along the way. Yes I know All about him and his contemporaries. Do not follow him, he is dead but his teachings can still lead you astray
Celafoe you are the one dead spiritually and careful what you use your mouth to say about God's servant.

---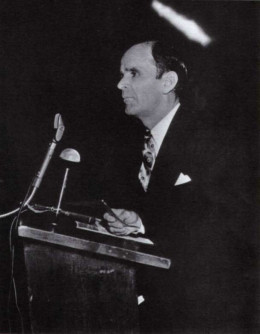 The Apostle John warned: "Beloved, believe not every spirit, but try the spirits whether they are of God: because many false prophets are gone out into the world" (I John. 4.1).
This verse may apply to William Marrion Branham or he may have started off well and later became a false prophet and a purveyor of false doctrine (the devil is always able to tempt the children of God as he did Jesus himself) or he may have really been a "prophet" of God as his followers believe...but there's the rub.
Why would any Christian seek to be a follower of any man when we have Jesus, the Old and New testaments, the testimony of apostles who walked with him on earth and their teachings through the Bible and we are commanded to be disciples of Jesus and not followers of any other apostle, prophet, evangelist, pastor or teacher.
So Branham was known for a huge healing ministry?
Edgar Cayce "healed" 14,000 people in his day (just by speaking to them on the phone and listening to the frequency of their voices he diagnosed and gave medical advice to this many people and helped them recover..and it's DOCUMENTED.)….is he a Prophet? I have news for anyone who believes healing is from God. It can also be of the devil. Meet Johanna Michaelsen, author of the The Beautiful Side of Evil - http://www.youtube.com/watch?v=K6Qy1j2LBmU
It boggles the mind that a small sect of Pentecostals dedicated to the life work and mission of William Marrion Branham call themselves Branhamites, exactly what the Apostle Paul said was worldly to do: "You are still worldly. For since there is jealousy and quarreling among you, are you not worldly? Are you not acting like mere humans? For when one says, "I follow Paul," and another, "I follow Apollos," are you not mere human beings? What, after all, is Apollos? And what is Paul? Only servants, through whom you came to believe—as the Lord has assigned to each his task. I planted the seed, Apollos watered it, but God has been making it grow.
So neither the one who plants nor the one who waters is anything, but only God, who makes things grow.
The one who plants and the one who waters have one purpose, and they will each be rewarded according to their own labor. For we are co-workers in God's service; you are God's field, God's building. (1 Corinthians 3:3-9)
I have read that Branham, the man was both great and later in life a heretic but in the end the only conclusion I can see anyone can make is just that ... he was only a man.
Only Proud and illiterate people utter these words that you don't have to follower a man, Men followed the disciples because the disciples were followers of Jesus , so we follow them as they follow CHRIST once they abide by the WORD OF GOD.

---