sort by best latest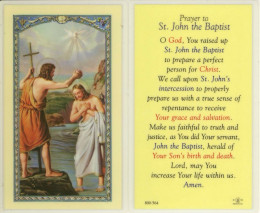 The baptism John performed in the days prior to Jesus' ministry was a baptism of repentance. Mark 1:4 John the Baptist appeared in the wilderness preaching a baptism of repentance for the forgiveness of sins. Mark 1:5 And all the country of Judea was going out to him, and all the people of Jerusalem; and they were being baptized by him in the Jordan River, confessing their sins.
John's baptism was a call in keeping with the words of the prophet Isaiah:
According to Isaiah, John's call for repentance within Israel was intended to prepare hearts for the Messiah's arrival. His baptism was a call for repentance unto salvation.
Acts 19:2-5: When Paul was in Ephesus, he asked "certain disciples," v.2 "He said unto them, Have ye received the Holy Spirit since ye believed? And they said unto him, We have not so much as heard whether there is any Holy Spirit. v.3 And he said unto them, UNTO what, then, were ye baptized? And they said, UNTO John's baptism. v.4 Then said Paul, John verily baptized with the BAPTISM OF REPENTANCE, saying unto the people THAT THEY SHOULD "BELIEVE" ON HIM WHO SHOULD COME AFTER HIM, that is, ON CHRIST JESUS. v.5 When they heard this, they were baptized in the NAME of the LORD JESUS."
Therefore, the purpose of John's baptism was for repentance and to demonstrate "belief" on him who should come after him, that is on Christ Jesus. So, not only did they repent but they demonstrated their "faith" on him who should come after him, that is on Christ Jesus!
Did you notice that they ("certain disciples") had been baptized UNTO versus INTO the name of the Lord Jesus? Scripture says in Romans 6:3 says "Know ye not that, as many of us as were baptized INTO Jesus Christ were baptized INTO his death?" After the original church was established in Acts 2, scripture repeats baptism INTO the name of Jesus numerous times. (Acts 2:38, Acts 19:5, Gal 3:27, I Cor 12:12-13, Acts 8:16; 10:48; 22:16).
If the apostles were "commanded to baptize according to Matt 28:19, Why didn't they? Were they disobedient? I find no place in scripture where "anyone" baptized according to Matt 28:19!
That's precisely where "religion" is today! They baptize in the name(?) of the Father, and of the Son, and of the Holy Spirit (which are not names, but titles/roles/glories) but not in the Name of the Lord Jesus as commanded by the Holy Spirit through the apostles (Jeremiah 31:33; Hebrews 8:10 and 10:16) when the original church was established in Acts 2 on the Day of Pentecost! Do they really think Father is a name? Is father your name? Do they really think Son is a name? Is son your name? Do they really think Holy Spirit is a name? If you are an engineer, is that your name? Try taking your paycheck to the bank made payable to father, son and engineer and see if they'll cash it?
(Holy Spirit has told me that someone has tampered with Matthew 28:19 and I John 5:7-8 to justify baptizing according to Matthew 28:19!)
That's why we need "help" from the Holy Spirit who will guide us into ALL truth because Matt 7:15 says "BEWARE!"
Why theologians can't see this, I don't understand???