sort by best latest
Jesus modeled involvement in corporate worship through His actions. Luke 4:16 tells us Jesus "went into the synagogue, as was his custom." It was His "custom" - His regular practice - to participate in hearing and teaching the Word in an active assembly of learning God-seekers. The early Christian church emerged directly from that setting of studious Scriptural community.
Nice! As I recall, he considered your body the temple. He had his own ideas, but was also a Rabbi, so he did try to incorporate his ideas into the traditional customs of the time. Rabbis were required to be married by the way.

---
Not much, but Paul said:
1 Corinthians 3:16
Know ye not that ye are the temple of God, and that the Spirit of God dwelleth in you?
Hebrews 10:25 says:
King James Bible
Not forsaking the assembling of ourselves together, as the manner of some is; but exhorting one another: and so much the more, as ye see the day approaching.
When Hb 10:25 was written, there were no churches. This although used to goad people into attendance at church is not about that at all. They were afraid of being put out of the synagogue if seen with other believers/disciples.Hence the admonishment.

---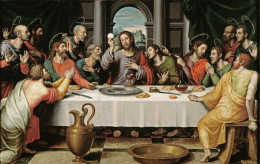 Then Jesus said to His disciples, truly, truly, I say to you, Except you eat the flesh of the Son of man, and drink his blood, you have no life in you. Then Jesus instituted this Sacrament at the Last Supper by passing bread and wine to all...
Thus it may perhaps be wise to receive these and learn about His life together at Mass?