sort by best latest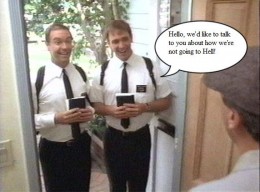 Both are "twisted" and defy Scripture! Neither believes there is "ONE SPIRIT" (I Corinthians 12; Ephesians 4:4-6) who manifests HIMSELF as HE desires; SIMULTANEOUSLY if It's His Will! Neither believes we should do as the disciples did when THE FIRST CHURCH (Our example, but who follows?) was established (Acts 2:42)!
Therefore, Galatians 1:6-9 applies: "I marvel that ye are so soon removed from him that called you into the GRACE of Christ unto ANOTHER GOSPEL: Which is not another ("Half truths!"); but there be some that trouble you, and would PERVERT ("Half truths!") the Gospel of Christ. But though we, or AN ANGEL from heaven, preach ANY OTHER GOSPEL unto you than that which we have preached unto you, LET HIM BE "ACCURSED." As we said before, so say I now AGAIN, If any man preach ANY OTHER GOSPEL unto you than that ye have received, LET HIM BE ACCURSED!"
Well I would say what Jesus tells us at
Mat 7:21which one describes the one doing the will of the Father.
First who is the Father. Psalms 83:18
What is his Will .1Tim 2:4
How is his will done Mat 24:14
He set the example Luke 10:1
Mat 28:20 says We are commanded to help people learn truth.
Because we do and obey our King Jesus
We are called his Isaiah 43:10.
So we are proud to be called Jehovah's Witnesses.
Thank you .
Tsad must be applying this to Protestants.We do not approach our good neighbors in that fashion.

But most people here can tell you their own experience. As a Jw we have good experiences of people that really study and know more then one translation

---