sort by best latest
This is a big day for the Old Ball Coach. Beating Georgia 3 years in a row would be a big deal and solidify South Carolina's hold on the SEC east. Having Georgia at home gives SC the edge.
Agree...there are so many great match-ups that "waiting for dust settle" cliche fits perfectly today

---
After today, Notre Dame will be the top team. That's what the Pope said.
Big 12 Conference looking to unseat SEC, but an Independent team like the Fighting Irish...will really get media running for their laptops!

---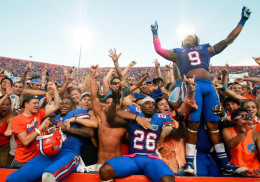 Analysts expected Week 6 to bring serious upheaval to the rankings, and that's exactly what came to pass. After Saturday's shakeup, K-State is in the top 5, Notre Dame is positioned for a BCS championship run, Florida and West Virginia served their notices as well. It was indeed "Separation Saturday"