sort by best latest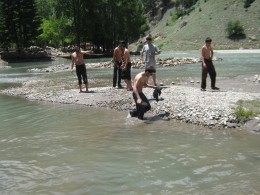 well my experience tells me that all u need is a camping bagpack and fill it with only the basic stuff that u may need. i'll mention the stuff in points
1) a tent
2) a sleeping bag
3) 2 trousers and 3 shirts not more than this
4) cell powered torch
5) a small handy knife
6) u must have proper shoes for example diggers because u may have to hike and all that
7) u must have a swimming costume because u may find very nice and irresistible spots to have a swim, have a look at my pic, the water was freezing cold but we just couldn't resist
8) do not take portable video games with you that wouldn't let you have the real fun at your camping, discover other ways of fun and entertainment like make a bonfire etc etc
9) never forget to take a raincoat with you it's very important
10) u should have sunblocks and sunscreens
11) take some nuts
12) keep your appetite low
13)if you are going to cold place then you must have jackets and sweaters etc
14) caps and hats and even sunglasses are helpful
15) and the rest is random stuff like soap, toothbrush and tooth paste,towel and other random stuff that u think might be helpful
It all depends on what type of camping you are doing.If you are going to be primitive camping your needs are going to be much different than if you are going to be in a campground with hook-ups.
When I primitive camp I try to keep it light and efficient.Shelter,food;unless you plan on eating fast food,cooking utensils,cooler,water,clothing,and bedroll make up the most basic needs.
Now if you are not "roughing it" the sky is the limit as to what to take.I have seen people take TV's,and video games.Campground camping offers all the comforts of home so take whatever makes you happy.
i always take blankets pillows air mattressor something soft to put on ground for a bed food pans to cook food on drinks and fire wood