sort by best latest
It depends entirely on you; there is no brand which is best for all feet or gaits. Any claim to the contrary is just marketing hype.
That having been said, if you have reasonable form and biomechanics I would choose a brand which is known for lightweight shoes, like ASICS, (particularly the Gel DS Trainer) or Mizuno's Wave series. These are very lightweight shoes that will make you feel like you're running with the wind.
If you you have gait issues like most people, you'll need a motion control shoe with more support. In this category, I would recommend New Balance or Brooks, particularly the Brooks Beast.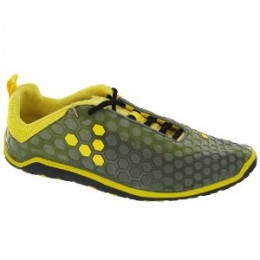 Terra Plana's Vivo Barefoot line is very fashion forward and seem very comfy. Similar to Vibram Five Fingers without the toe separation. They look like shoes from the future. :)
Check 'em out:
I have flat feet and put in around 50 miles a week. There is a specialty running store where I live that is good at finding the right shoe for your foot. I keep two pairs of the same shoe-alternate after each run.
i also think the New Balance is your best choice, althougt there are so many kinds of shoes. if one pair of shoes you wear a long time, that is the best for you.
I suggest that everyone buy a pair of barefoot (i.e. minimalist) running shoes in addition to whatever traditional shoes work best. Most of us have warped our feet to depend on shoes, so if we start out full-on in barefooters we will get hurt. To begin with, run in your barefooters for just 1/2 Kilometer or less, then do the remainder of your run in regular shoes. Keep increasing the percentage of your run you do in barefooters each time you run. In this way you will gradually wean your body off its shoe addiction. The barefoot shoes will protect your feet from small hazards such as dog do, small sticks, splinters, sand burrs, stickers, pebbles and smashed glass. They won't protect against large jagged rocks or sharpened pieces of rebar.
Look for Asics, Brooks, Mizuno, New Balance. Within these brands there exist shoes for all needs. If you have a high arch you may need more cushion. If you are flat-footed, more support and stability. Get fitted at a local sports store with someone who knows what they are talking about. I have found the poorest quality are the Nike Shox and Air because the air bubble pops if you step on something sharp and shox pop off.
barefoot also means a higher likelyhood of rolling your ankle!
choose a shoe that gives you good support and traction, and it has to be comfortable! I love new balances, I find them both comfortable and fashionable...

The latest findings indicate that BAREFOOT is best. Of course, there are problems in the city with glass, dog poop, etc. And, in some cases, cold. But don't those NY marathon runners from Kenya, wherever, run barefoot?
The rationale for barefoot is that barefoot, you land on the front (ball of the foot and toes) when barefoot rather than on the heels when wearing shoes. That means less impact and wear and tear on the knees and hips.