sort by best latest
Hi Athlyn!
I like to use coconut oil, which gives shine and moisturizes hair. You can add some to your conditioner or use it alone. It's light, so you don't have to worry about a heavy greasy feeling.
Aloe Vera can be used as a conditioner after the use of a shampoo. It is a good idea to massage the scalp with hair oil such as coconut hair oil before shampooing your hair. Then use aloe vera as a conditioner to get shiny healthy hair.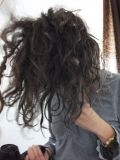 Neem oil - but you would have to have extremely dry hair in order to use this.
Wash your hair with a egg.
More ideas @ http://hubpages.com/t/154de0