sort by best latest
A milk jug. Buy a half gallon of milk and drink it (or have your children do it). A quart is fine too if it's that soft plastic. Use the scissors from your car, or purchase some for a dollar, and cut a piece bigger than the thing on the bottom. Make one slit towards the center, and then cut a tiny hole. Slide it between the bottom thing and the sole, with the slit facing whichever way there is less pressure. Use tape across the slit, if necessary to make it home.
A water bottle will work also, of course. I wouldn't want to endorse milk toxicity haha.
find a metal clip (hairpin, paperclip, nail) and hammer it through the broken end. should stick till you get home.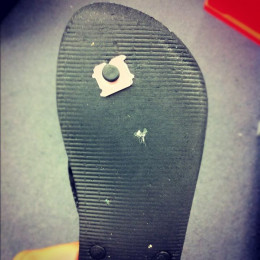 Apparently bread tags work pretty well. I've never personally tried it. I grabbed this image from google. It's healthier than drinking a gallon of milk.