sort by best latest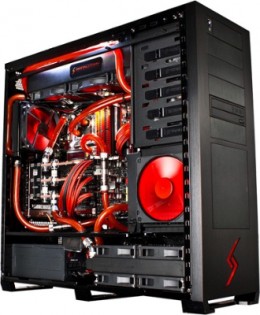 if you're building your own system or purchasing one for both video editing and gaming then you might want to consider "liquid cooled" systems. they keep the system much cooler therefore better results.
the red pipes in the picture hold a liquid substance which carry the heat away from the processor and video card. fans cool down the liquid for the next cycle.
Alienware makes some great gaming desktop and notebook computers. Falcon Nothwest is another manufacturer of high end gaming systems.
Personally I prefer to build my own desktop machines which gives me complete control over all of the parts that go into the system.
As long as the system has a high end graphics card and a good CPU it will be capable of running flight simulators with high visual settings.