sort by best latest
If you only want to follow a particular board of a pinner, go to their page and find the board you are interested in. Below the photo there is a follow option. Click it and you are only following that particular board of that pinner. You can also click on the photo to see all of their pins in a particular board. At the top of the page is a red follow button. Clicking on that will also let you follow a particular board.
By only following a board, you will only see the pins on that board. For example like to see quilt pins so I follow a number of quilt boards of pinners. I don't necessarily want to see their other types of pins.
Hope that helped.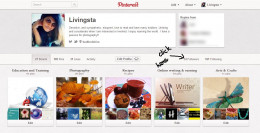 Hi Peggy, you can follow all boards or specific boards of a person. If you need to look at your followers profile, go to your own profile page, which will be
pinterest.com/your_username
On that page, you will see "followers" (Please see attached screenshot)
Click on that. It will take you to a page where you can see a list of all your followers.
If you click on the username of each follower, it will take you to their profile where you will be able to see all their boards.
Hope this helps.