sort by best latest
I'm glad you've gotten help with your question, Faith. I just have a comment to make about all the changes HP is implementing that are leading to questions and forum topics.
In the workforce when the company is contemplating procedure changes, the employees are usually made aware and often participate via feedback and suggestions.
It's the opposite here at HP. We're blindsided with changes that come at us like rapid fire. It would be nice to be made aware of what is going on behind the back door. At the very least, send us updates in the weekly newsletter - not the blog (not everyone follows the blog or gets notified of new posts).
If HP is a 'family' of writers, why are we constantly kept in the dark?
Go to your profile page. In the right hand column upper half of the page under 'my content,' 'my activity,' 'followers,' following,' etc., click on 'Fan Mail.' When the fan mail page opens you should see at the top of the fan mail page right upper side, in blue letters, "send Faith Reaper an email."
Also, at the top of your profile page you can click on account settings. Just below 'Email Address' near the top of the page, you will see these selections:
Allow HubPages to contact you?
Keep me up to date with HubPages news
Allow others to contact you?
If you do not check the box "Allow others to contact you," no fellow hubbers, and no readers will be able to email you. The "Send Faith Reaper an email" on your fan mail page will disappear.
I don't know what you mean be resetting your email. Hope this info helps.
Hi Au fait, yes, I see the email for others to contact me under Fan Mail. I thought I went under that and I have 'Always' checked for each box, but I don't see where I can retype my email as I've done before when this happens. Thank you

---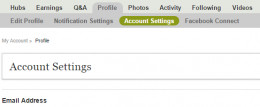 It's easy
1. go to "My account"
2. click on "profile" tap
3. click on "account sitting" tap
then change it
Thank you, Wissam. I've done it before when I wasn't receiving e-mail when someone commented on my hubs, but I just couldn't find it as before.

---