sort by best latest
Best Answer TSAD says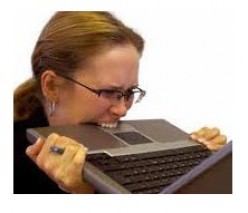 It sounds like you need to service your laptop:
1) Make sure you have downloaded and installed all required updates for your OS
2) Have a malware program and run it weekly (spybot is free https://www.safer-networking.org/)
3) Clear the cache on your browser and make sure it's set to block ads
4) Right click on drive C, click properties, run whatever is under tools, defrag, error checking, clean up depending on your OS.
5) Run disk defragmenter monthly or if you have windows 8 or later set to defrag automatically.
6) get a registry cleaning program, might find a free one if you look.
7) Speed test your computer (go to a website like http://www.timewarnercable.com/en/support/speed-te... and run speed test, if it is not at the speed your ISP is supposed to be providing you call them.
8) Make sure you have an anti-virus program and it is up to date.
9) You should try to only use 2/3 of your hard drive, keep 1/3 free.
Oh, my goodness, that is a lot of work, but I believe you're right as it is just so frustrating to try to do anything on my laptop. I will work on all of this. Your image looks like what I feel like doing : ) Thank you so much, TSAD!

---
Faith
I used to have a similar issue and for me it was actually the 'computing power' I was using.
One thing to ask is how old are they? If your phone is say two years old then it's using a quad core processor which is seriously good and you'd probably need a good mid to near top of the range laptop or desktop to match it!
My ills were finally cured when I got a second hand (refurbished) business laptop for just over $300 (worth a couple of grand new!) so looking at something like that can help.
One other thing I do is write stuff on the phone, then email it to myself to 'copy and paste' in when I need to. This way I can write the first draft on something and I've got copies if some goes missing. Hope this helps.
Lawrence
Hi Lawrence, yes, this is helpful. Thank you! My husband did a lot of the suggestions and it seems to have sped up a bit. Plus, he ordered me a tablet and I have an app with Word on it, so that is convenient. Blessings

---
I just clicked on the spyware lin he gave and wow I cannot believe how fast everything is moving so don't know if I will do more but that was fantastic and it didn't interfere with anything else I have going! You should try it.
Hey maybe if we move really fast our score will go up! lol