sort by best latest
Hello! I live a little bit from Pittsburgh in Hanover, Pennsylvania, but I know some about the city itself. First of all, it's huge and loud, with a population of 312,000 people. The job market throughout most of the state is hurting pretty badly (with Harrisburg just filing for bankruptcy,) and the only jobs that will most likely be available are those in construction/warehouses. The climate is usually hot/humid (anywhere from 80 to 100 degrees F) in the summer and cold/snowy/icy (anywhere from 40 to 15 degrees F) in the winter. Pittsburgh itself is very urbanized and experiences approximately 3,000 violent crimes a year.
Some negative things about Pittsburgh, and Pennsylvania as a whole:
Pennsylvania is an "at-will" state, which means that because you are willfully employed in Pittsburgh, your employee has the right to suspend or terminate you for no reason. (This is probably something that I'll never get used to.) Also, Pittsburgh has a pretty rowdy football team- the Steelers. I don't know if you're a football fan, but there have been some incidences of rioting after games.
Overall, Pittsburgh strikes me as being similar to Baltimore in Maryland, but I know several people that have lived there and they loved it. Best of luck to you in your move, wherever you decide to go!
AJ says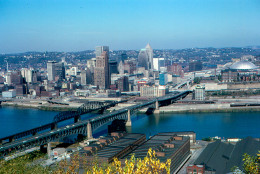 Dear Roy, I just saw your question here--just joined Hubpages a few months ago. Don't know if you made your decision yet, but I thought I'd add my two cents to your question. I'm no statistics expert but, Pittsburgh offers many prospects--maybe more than most U.S. cities. The city offers several colleges, hospitals and health-care companies--all big employers. I'm not sure what job you do in the military, but if your skills match one of these areas, it might be a great fit for you. The average home costs just $168,612 as of 2102. It is a very clean city, contrary to old myths about the "Smoky City".
The population has remained steady. The population--that is the best part of Pittsburgh--the people. Pittsburghers are family people. People go to church. Yes, we love our Steelers, Penguins and yes even the lowly Pirates (ummm--no sports riots). We take pride in our neighborhoods. There are entertainment venues North, East, West and South. Yes, we have crime and problems like any city has, but not like New York or Los Angeles or Chicago. Yes it's cold in the winter and hot in the summer. All I can say Roy is if you haven't made your move, visit Pittsburgh. You might never leave!