sort by best latest
Best Answer Mr Nice says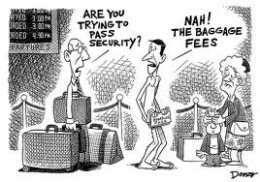 Well not a lot and no free lunch anymore, I mean checked in baggage not free on most air travel domestic and international.
carry-on bag;
The maximum combined linear measurement (length + width + height) of carry-on bags must not exceed 14 inches x 9 inches x 22 inches (23 x 35 x 56 cm) or 45 linear inches (114 cm).
Personal items;
In addition to one carry-on item, you may bring one personal item such as a shoulder bag, backpack, laptop bag or an item of similar size.
The following items are not counted toward your one bag and one personal item limit:
* Overcoat or wrap
* Umbrella
* A reasonable amount of reading material
* Pet carrier (fees apply)
* A collapsible wheelchair
* Child restraint seat meeting FAA approval standards
* Camera
* Diaper bag
* A limited amount of duty-free merchandise or food purchased in the airport
* Assistive devices (a cane, one set of crutches, prescription medications and any medical devices needed to administer the medications, a portable oxygen concentrator (POC), etc.)
Checked in baggage is not free on most airlines either it is domestic travel or international.
You can check the Domestic and International airlines at this link for detailed info.
Have a nice trip.
www.onetravel.com/travel/baggage-international.asp
Might wanna check with whatever airport You are flying from but I know You can't take sharp objects such as knifes, weapons and such (obviously). You cannot take liquids in your carry-on, like drinks and such ... no food either unless You purchase it after passing through customs ... there are so many nonsensical rules nowadays, better check with airlines or airport security if You have concerns about certain specific things, just so You don't run into issues. Flying to some countries is a bit of a pain now ...
Whenever I'm flying I take several book, a notepad and pen, and a couple of those lunchables, although I leave the drink part at home. I also take an empty water bottle, so I'm not at the mercy of their prices for water. Take a thing of chapstick, because flying dries you out, and something for your hears. You can take medications that are clearly marked, and if it's one that you need a prescription for make sure it's in it's original prescription bottle and has your name on it. I haven't tried to get my crochet stuff on a plane yet, because I'm pretty sure they wouldn't let me take my scissors on the plane.