sort by best latest
I was in the Navy for four years. So I made a lot of trips in a ship. I went as far as the Middle East, and stop in many countries on the way there and back. Being in the Navy is definitely different than a cruise, since you are working for most of the day. But I still enjoyed the experience. I liked to go outside of the ship at night. When you are in the middle of the ocean you don't have any natural light, so you can sit in real darkness, with only the stars and moon giving any light. It was peaceful, looking out into the darkness, listening to the waves splash against the ship in a perfect rhythm.
I would suggest everyone take at least on trip in a ship. It is a unique experience. You are confined to a small area. But since you can look across at the vast ocean, you feel as if you have the whole world laid out in front of you.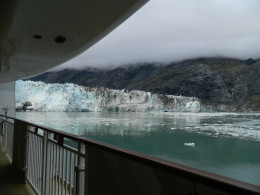 I have travelled from Britain to New Zealand by ship at age 5. NZ - Australia on the Canberra . A Princess cruise to Tasmania from Sydney and have just done an Alaskan cruise which was awesome !!
I love travelling and really enjoy cruising for variety . We have never had a problem- great food-entertainment etc !
I went on a couple of cruises. They were great fun. We went to the Caribbean in February. The temperature at home was in the 20s. In the Bahamas it was 78.