sort by best latest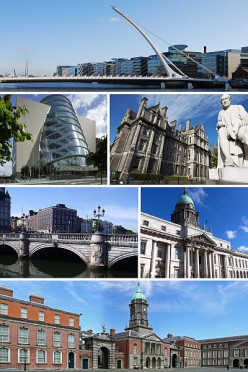 Hi Citywolf! That is so awesome that you are traveling to Ireland! I have a friend that is from Ireland and she is very fond of ornaments with American symbols such as key chains, you might want to pick up a trinket from the airport before you leave they have nice American keepsakes in the gift shops.
I hope that you write an article about your trip! I enjoy your travel articles! I hear that the following is nice to visit; the information comes from a tour guide at the Westin In Dublin but can be found on Wikipedia as well. Have fun! Wishing you a safe return.
Picture from Wikipedia/(Clockwise from top: Samuel Beckett Bridge, Trinity College, Custom House, Dublin Castle, O'Connell Bridge, and Convention Centre Dublin)
Thank you, I'm so happy to hear that you enjoy my travel articles. Trinkets would be easy to acquire :) I read another thread where people were talking about southern whiskey and peanut butter. I have an Australian friend who adores peanut butter.

---
Usually our latest movies are popular. Do not miss the Cliffs of Mohr!
Wow! I love Ireland!
When you are going from Dublin to Drogheda, you may visit Malahide.
I loved to be there.
It is a small city, close to Dublin at the Irish sea (great for a walk along the sea shore). There is a fine Grand Hotel (great view, great stay and great breakfast :) and I remember few nice restaurants :) in Malahide.
By the way, the Dublin airport is just few miles from Malahide. I took a taxi to the hotel. It wasn't expensive.
Wicklow Mountains are very lovely and exciting to visit. I hope you plan to enjoy few hours in the monastery at Glendalough, founded in the late 6th century by Saint Kevin. There is no monastery anymore, just cemetery and ruins of the monastery. However, the round tower (unique for Ireland!) and St. Kevin's Chapel are still almost like new (after 1500 years...).
All in one, Glendalough is situated in a beautiful scenery.
When you have more time, visit Connemara (with Clifden and Galway) this is to the west from Dublin, and Cork - a great city to the south... and this is just 5 % of Ireland... :)