Google does not treat subdomains as individual sites when it comes to linking. Google made this change two years ago:
http://googlewebmastercentral.blogspot. … ernal.html

I don't know if the person you consulted was aware of how much HubPages is dependent upon its internal linking structure for PageRank when the suggestion was made to change the navigation to be "more intuitive for users."

You posted concerns on the forum about a major traffic drop to the site on May 9th. Google responded to a major downturn in backlinks to the domain.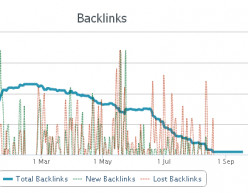 The loss in backlinks resulted in lost rankings in search results for keywords: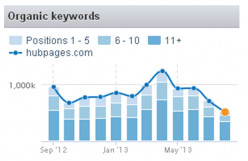 This in turn explains much of the lost traffic from search.

Backlinks to Topic pages have also been lost. In the 'Books, Literature, and Writing' Topic, the loss of backlinks has tanked to only seven domains.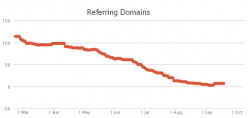 Those links plus the homepage links are now all that support the PageRank to that Topic page (except for the EC Hubs), which is then divvied up among the Hubs within that Topic.

When the breadcrumb navigation was changed, that particular Topic page immediately lost the 73,231 internal links it had built up over time. (That link count is for all of the subtopic pages in the 'Books, Literature, and Writing' category as well.) And that's just from one Topic page. There are 22 of them on the site; that's about 1 1/2 million lost links. Overnight. This also tells search engines that the HP domain no longer values the Topic pages because it has massively removed its internal links to them.

Further, this leaves individual Hubs with virtually no PageRank flow from the HP site and further decimates the PageRank of the Topic pages. Repercussions will be seen in search rankings.

To improve UX for visitors searching for relevant content by the same author, I think HP had it right two years ago when your subdomain page looked like this: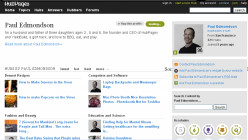 This is the actual subdomain landing page, i.e., you didn't have to click on anything to see Hubs arranged by Topics.

This portion of the page had a clean UX design, a true index landing page that catalogued the content of the subdomain and it used keywords appropriately for SEO.

With the new navigation, every Hub is given another link to the author's subdomain page. Hubbers with 100 Hubs just inherited 100 spam links because they are duplicate links.

If this scares the begeezus out of EricDockett, then he shouldn't be reading this serious discussion. But I hope you read it Paul and I do hope it does scare you.