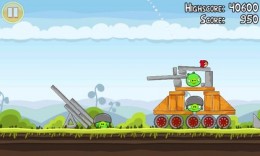 5 best free Android games:

1. Angry Birds

The amazingly popular iOS game moved to Android recently, earning over two million downloads during its first weekend of availability.

The Android version is free, unlike the Apple release, with maker Rovio opting to stick a few adverts on it rather than charge an upfront fee. The result is a massive and very challenging physics puzzler that's incredibly polished and professional. For free. It defies all the laws of modern retail.

Go to www.getjar.com to download Angry Birds. The site seems to be rather slow at the moment, so we're guessing it is proving popular.


2. Bebbled

Your standard gem-shuffling thing, only presented in a professional style you wouldn't be surprised to see running on something featuring a Nintendo badge with an asking price of £19.99.

You only drop gems on other gems to nuke larger groups of the same colour, but with ever-tightening demands for score combos and scenes that require you to rotate your phone to flip the play field on its head, Bebbled soon morphs into an incredibly complex challenge.

3. The Red Stone

There's an awful lot of square-shuffling games on Android and Red Stone is one of the best. And one of the hardest. You start off with a big fat 'King' square that's four times of the normal 'pawn' squares, then set about shuffling things so the fat King can get through to an exit at the top of the screen.

It's hard to accurately describe a puzzle game in the written word, but seriously, it's a good game.

4. Newton

Released a few months back in beta form, Newton is a maths/physics challenge that has you lining up shots at a target - but having to contend with the laws of nature, in the form of pushers, pullers, benders (no laughing), mirrors and traps, all deflecting your shot from its target.

The developer is still adding levels to it at the moment, so one day Newton might be finished and might cost money. But for now it's free and a great indie creation.

5. Sketch Online

Surprisingly free of crude representations of the male genitalia, Sketch Online is a sociable guessing game where users do little drawings then battle to correctly guess what's being drawn first. It's like Mavis Beacon for the Bebo generation. The version labelled "Beta" is free, and if you like it there's the option to pay for an ad-free copy. But Google can't make you. Yet.