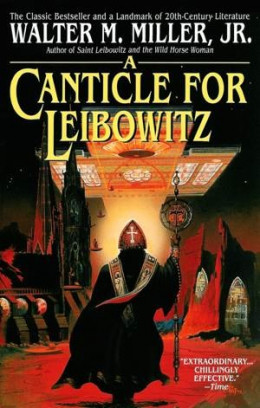 Walter M Miller's only published novel, A Canticle for Leibowitz, is a true masterpiece of post apocalyptic fiction.( He did write a sequel towards the end of his life but it was completed by Terry Bisson, while ' ST Leibowitz and the Wild horse woman' a good immensely readable novel , it merely pales in comparison as the original was so dazzling) A prolific sci-fi short story writer, the author based this novel on three stories he wrote for the magazine of fantasy and sf. Acclaimed by critics and equally loved by readers ( Ithas never been out of print for the past 50 odd years- it was published in 1960).

Set 600 years after a global nuclear meltdown that leads to the destruction of 20th century civilization, the survivors have turned against any learning or science as they blame the end of civilization to the learned men who led to it. The backlash is called 'simplification' where anyone who can read or exhibits any learning is attacked by mobs and killed. A Jewish electrical engineer Leibowitz from the US Military who survived the war, converts to a monastic life and secretly preserves knowledge in the form of old manuscripts in a hidden military base in the Southwest. He is eventually found, killed and attains martyrdom. The books remain hidden as a means of eventual resurrection of civilisation that has descended to dark ages. The story then leaps to 26th, 32nd and 38th centuries. Each storyline captures the search for and the eventual discovery of Leibowitz's lost abbey and the knowledge within, rebuilding of civilization in whatever form and the aftermath.

I read this as a 13 year old and it completely blew me away. I re-read this book every few years to remind myself how great stories combine so many themes, science and apocalypse, a quest, heroes and villains, fall and redemption, hope and loss while still being grippingly entertaining. You wont be disappointed - I think Postman, the Book of Eli and others have borrowed heavily from this influential original.