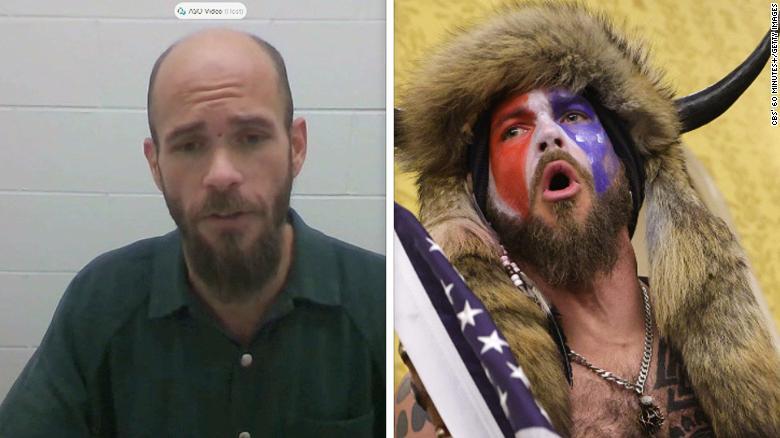 Jacob Chansey was one of the most high-profile people who broke into the Capitol as Congress met to certify the vote count of the Electoral College in the 2020 presidential election. Images of him wearing face paint and a furry horned and feathered hat while baring his tattooed chest were widely circulated.

Charge(s):
Civil Disorder; Obstruction of an Official Proceeding; Entering and Remaining in a Restricted Building; Disorderly and Disruptive Conduct in a Restricted Building; Violent Entry and Disorderly Conduct in a Capitol Building; Parading, Demonstrating, or Picketing in a Capitol Building. https://www.justice.gov/usao-dc/defenda … ob-anthony

Chansley was originally charged with six federal crimes. He pleaded guilty to one of the most serious charges and could face a maximum of 20 years in prison, though his LACK of a CRIMINAL record means he'll likely receive much less. As part of the plea agreement, Chansley agreed to pay $2,000 in restitution for damage to the Capitol. He could also face a fine of up to $250,000. https://www.aol.com/news/qanon-shaman-s … 55253.html

Jacob Chansley, the Jan. 6 rioter who became known as the 'QAnon Shaman' after he stormed the U.S. Capitol shirtless, wearing horns on his head and bearing a pole with a spear tip, should serve more than four years in prison, according to a sentencing memorandum.

"The prosecutor's recommendation supports the proposition that the Government remains willfully delusional about the role in the events of January 6 of a young, gentle man with zero criminal history and long-standing mental health vulnerabilities. It is shameful," his attorney, Albert Watkins, told NBC News early Wednesday morning.

Prosecutors submitted the memo Tuesday night, recommending the court hand down a sentence of 51 months, followed by three years of supervised release and $2,000 restitution. Chansey's sentencing is set for Nov. 17.

The majority of those charged in the Jan,6 riot were charged with misdemeanor charges and were more or less doing the same thing as Jacob. They received very lenient sentences and fines. Is Jacob being made an example of due to his very flamboyant recognizable costume? -- A costume most American's have been made well aware of and would recognize as a symbol of the Jan, 6, riot.

So, simply does this man deserve a sentence of 51 months, followed by three years of supervised release and $2,000 restitution?