sort by best latest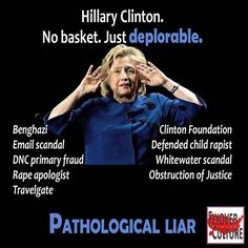 Well the DNC did apologize didn't they? Hard to lie about that one. I wonder, did they apologize to Bernie Sanders for the raw sewage they were planning to dump on his campaign? Or was giving the deplorable D.W. Schultz another job out of it necessary to add sewage to Hillary's campaign? Sounds to me like the real deplorables are supporting Hillary.
Will the real deporables please stand up.
Bus drivers who dump raw sewage form her campaign, check
Those supporting late term abortion, check
Those who approve of her being in charge of squelching her husbands "Bimbo" (her name for victims of sexual assault and rape), check
Those who laughed with her at getting a pedophile rapist off, check
Those who think investigating her responsibility for the death of the ambassador and men who were there to protect him in Benghazi was witch hunt, check
Those who pretend she didn't lie about the video to the families of fallen heroes (and the nation), check
Those who think the Clinton Crime Family Foundation is actually a charity and nothing else, check
...If you can think of anything else that makes her supporters "deplorable" put it in the comments.
No. They won't even discuss her various corrupt acts from bribes from foreign nations to abuse of non-profit status to prosecuting innocent people (arresting guy who made the Youtube video she blamed for triggering Benghazi riots).
BOMBSHELL: The same exact day that Cheryl Mills told Podesta they needed to 'clean up' the email scandal, Virginia Governor & Clinton Surrogate McCauliffe met with the FBI agent who oversaw the Clinton email case and his wife and promised financial support ($500k+) if she ran for office
Anyone who dumps raw sewage should be held responsible for the cost of clean-up and fined heavily for it. That is un-excusable, anti-social behavior.