sort by best latest
I dont' have a TV; but if I did, I'd watch it.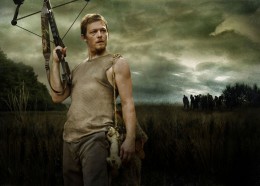 I'm hooked on the show as well. I like Daryl's character and his no nonsense attitude dealing with zombies, I keep waiting for his one handed brother Merle to show back up. Shane seems to be too focused on his own survival without regard for the rest of the group and this creates a lot of tension. Andrew Lincoln as former Sheriffs Deputy Rick Grimes is their uneasy leader tasked with the difficult job of trying to take care of the group and his family at the same time. Everyday people trying to survive and facing extreme situations while trying to maintain a sense of normalcy makes for interesting television. Watch Andrew Lincoln's recent interview by David Letterman here : http://www.youtube.com/watch?v=WiggqC9c7T0
It's the only show I've ever watched habitually. I love Norman Reedus so I was pretty much hooked when he climbed out of the bushes with a crossbow a few eps in. I'm not crazy about his character, though his badassery is arguably unparalleled.