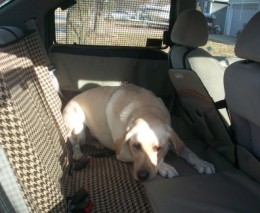 Make sure they have room to sit, stand, or lay down. For larger dogs in an SUV, the cargo area may be best. For larger dogs in the car, I use what is called the Backseat Bridge from Kurgo. It covers the floor area of the back seat and gives my two big dogs more room to stretch out. I have attached a photo of my dog Maya in the back seat of my car resting on the Backseat Bridge.

For large or small dogs, you can have them rest on a blanket or pillow. This will especially help older dogs. For my older dog, Sephi, I used the heated car seat cover if we were taking long trips in cooler weather.

Make sure to make plenty of stops. I drive from Kansas to Texas about once per year to visit family. Me and the dogs stop at the rest stops, and I take them out whenever I stop to put gas in my car.