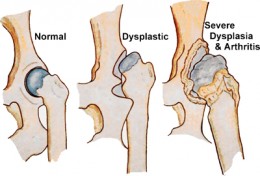 Hip dysplasia is an inherited condition resulting from an improperly formed hip joint. Certain breeds tend to have it such as German Shorthair Pointers.

From:
http://www.petwave.com/Dogs/Health/Hip- … auses.aspx


Another preventative measure is to avoid feeding young, rapidly growing large and giant breed puppies a diet that is extremely high in fat, calories or protein. Dietary overstimulation has been shown to contribute to growth-related bone, joint and cartilage abnormalities in rapidly growing large youngsters, including osteochondrosis dissecans (OCD), hypertrophic osteodystrophy (HOD) and hip dysplasia.

Dogs of all ages and any breed or mixed breed should have their weight managed to prevent obesity, which can put excessive stress and abnormal pressure on the hips and on other joints. Young dogs should not be exercised heavily, especially not during the first year of their lives.

They should be prevented from leaping into the air (such as chasing a Frisbee) and landing full force on their hind legs. They should not be allowed to stand up on their rear legs and jump on people or peer over a fence.

Puppies should be kept from jumping off furniture or out of the back of pick-up trucks or tall SUVs.