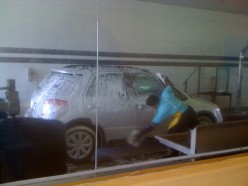 I think I have found the best car wash in the area of Ventura / Camarillo. ( Southern California ). For only twelve bucks you van get a great hand wash. (Seven for just the outside). They do have more expensive options and detailing. I've pampered my previous car with the clay treatment which makes the exterior feel like butter getting rid of sap and polishing the paint.

They filled up my gas tank for me. And put lots of elbow grease into finishing off washing and drying inside and out.

The place was clean. Lots of places to sit inside and out with a lovely atmosphere, fountains trees plants and of course beautiful coastal weather.

This fabulous car wash is a 76 station (100 S. Los Posas) located just off of the 101 freeway in Camarillo ( west on the Los Posas exit). Conveniently there is a Quick Stop oil change in the opposite side of the 101. Where I'm currently writing this from, drinking complimentary hot tea while waiting in my nice clean car.