Hi everyone!

This thread provides a bird's eye view of what's going on at HubPages right now.

If you have any particular recommendations on things that should be added to this page, send me an email!

For updates on bug fixes we are aware of (or should you need to report a technical problem), please visit the Technical Problem Forum FAQ.

What's going on around the community
*SimeyC is sharing some helpful Hub prompts via Questions and encourages you to do the same. We second his call to inspirational action!
*You can find our latest Rising Star nominees and some promising new Topic Pages in this thread.

What we're working on behind the scenes
*We have moved redundant Learning Center entries to the FAQ and are streamlining our lessons to make for an easier browsing experience.
*We're developing an updated version of the Apprenticeship Program, which we hope to release near the end of summer.

Recent feature and policy updates
*Hey Healthy Pursuits and Len Cannon! We listened to your requests (and those of many others) and have finally separated Topical Forums (religion and politics among them) from HubPages Forums. REJOICE! (Note, use the button at the top left of Forums to switch from one to the other)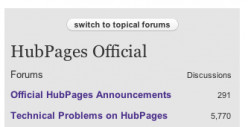 *We have introduced a new policy (known as Boot Camp) whereby until you have published five simultaneously-Featured Hubs, new Hubs that do not pass the Quality Assessment Process (QAP) will be unpublished rather simply being not Featured (read more on the HubPages Blog).