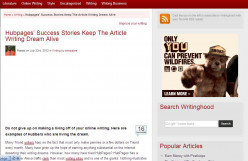 Here is a great online article by someone who is (or used to be) a fan of HubPages. It's titled: "Hubpages' Success Stories Keep The Article Writing Dream Alive". It's an interesting read. Let me quote from that article, it says -


"Do not give up on making a living off of your online writing. Here are examples of Hubbers who are living the dream.

Many Triond writers harp on the fact that most only make pennies or a few dollars on Triond every month. Many have given up the hope of earning anything substantial on the internet deserting their writing dreams. However, how many have tried HubPages? HubPages has a much higher Alexa traffic rank than most writing sites and is one of the giants. Nothing illustrates success like seeing examples of people succeeding.

The following are a few highlights gleaned from the present HubPages link http://hubpages.com/success/ and is information by HubPages so it is not a case of writers claiming to make what they do not.

1. Marye Audet - She makes $3,800US monthly and presently has 487 articles (called hubs on HubPages).

2. Kathryn Vercillo – Kathryn makes $1,500US and has 1134 hubs.
3. Habee – Habee earns $1,300US monthly and has 1021 hubs.
4. John D Lee – This writer makes about $1300US monthly and has 494 hubs.

These are just a few of the success stories at HubPages. All of these figures are dated late 2011, post-Google Panda, so they may be making more now."


The HubPages 'success stories' page doesn't exist now. But the dream lives. It's still inspiring a lot of people on the internet. I'm just wondering why they disappeared, disappointing the dreams of so many people online.