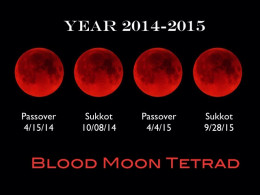 With regards to the United States, the Western part of our country witnessed a significantly brief total lunar eclipse. It is sometimes referred to as a "blood moon."

Earlier this mourn, while I am usually literally on ice, the moon rather slowly wandered into the Earth's shadow. Eventually, the shadow completely enveloped the moon and blocked nearly all sunlight, it creatied a total eclipse and caused the moon to glow red from small amounts of light passing through our atmosphere. It is special because (1) it is significantly unique (it will only happen once more on this year's trip around the sun.
(2) It is a spectacular site for our eyes to behold.
(3) it enables me to contemplate what an amazingly complexed universe we are a small part of...
(4) It has happened during Pass Over and during the Christian Tridium and is considered to be a significant sign from God by some...