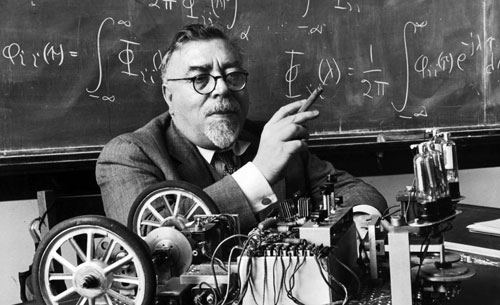 "We are swimming upstream against a great torrent of disorganization, which tends to reduce everything to the heat death of equilibrium and sameness described in the second law of thermodynamics. What Maxwell, Bolzmann and Gibbs meant by this heat death in physics has a counterpart in the ethic of Kierkegaard, who pointed out that we live in a chaotic moral universe.

In this, our main obligation is to establish arbitrary enclaves of order and system. These enclaves will not remain there indefinitely by any momentum of their own after we have once established them. Like the Red Queen, we cannot stay where we are without running as fast as we can.

We are not fighting for a definitive victory in the indefinite future. It is the greatest possible victory to be, to continue to be, and to have been. No defeat can deprive us of the success of having existed for some moment of time in a universe that seems indifferent to us.

This is no defeatism, it is rather a sense of tragedy in a world in which necessity is represented by an inevitable disappearance of differentiation. The declaration of our own nature and the attempt to build an enclave of organization in the face of nature's overwhelming tendency to disorder is an insolence against the gods and the iron necessity that they impose.

Here lies tragedy, but here lies glory too."