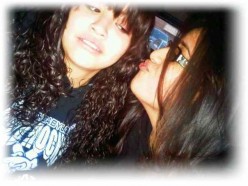 There I am going through my IPad photos and I realize that some pictures are missing. I started to be regretful of those pictures I am missing. I realized that regardless of the events that took place in the past with those individuals in the past, they are still part of the picture frame of who I was and whom I've become... The only pictures that exist now play like an old rail film projector with images of those who I once gave my love to, and those who broke it. Don't get me wrong I am not sad, just regretful of not having the pasaibltiy to look back and hurt, laugh, smile, cry, love, and just to live one last time of that which time has taken away... Sometimes I feel as though there is so much History lost when I look at my Baby Sisters... To you... Know that think about you two everyday.... If there is a picture of me smiling, please know that I am saying Hi.... That I am very proud of both of you...
To my friends, just take as many picture as you can... And one night when you are in the dark looking at you own History of love ones, of love story, of pain, of smiles, know that you will get the big picture of life...

As for me, well, know that I will never forget you all in this life or the next one.... One Love NYC.....