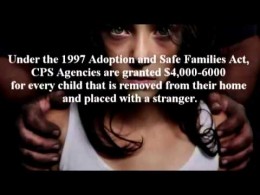 You are living in your car?
Your cousin refuses to look after your child while you get things fixed?
They removed your child due to being homeless?

That's weird. There was no attempt to place you and your child in a shelter since unable to stay at your cousin's?

I don't know what state you are living in - each state is different. I'm sorry to hear about all these troubles. All I can do is give you links. Good luck.


FightCPS: Child Protective Services-CPS-False Accusations
Family Rights v. Child Welfare Services - http://fightcps.com/why-cps-caseworker- … lping-you/

Remember:

(1) Do not give CPS any self-incriminatory information on affidavits, declarations, or other legal documents.

Do not give up your rights in order to get your kids back.

All I know is that the foster parents get the free childcare, the baby buggy, the car, and social support, For the parent - nothing.

Even those organizations that are there "to help" use underhanded methods and are seen as OK to do it.
If you go to a family counseling - be careful!!!!! You will have to sign your rights away!! It is not like AA meeting where "Everything said here - stays here". Hearsay used in this fashion can be abused by fighting parents or exes.

It is a state sponsored Brain Washing cult where your are encouraged to trust enough to tell your secrets that are then used against you in court. Hearsay should not be used in legal court proceedings.