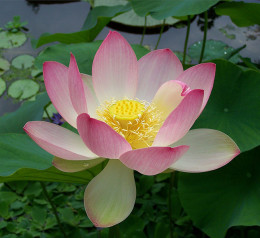 Flowers, roots, stems, seeds and leaves of sacred lotus are all eaten.

Lotus contains the following nutrients:
Vitamins A
Vitamins B1
Vitamins B2
Vitamins B3
Vitamins B6
Vitamins C
Energy
Proteins
Carbohydrates
Calcium
Copper
Fluoride
Iron
Magnesium
Manganese
Phosphorous, Potassium, Zinc, Sodium
Fibers
Sugars
Folate
Water

Lotus is used in treating diarrhea, fever, fungus infections, ringworms, leprosy, skin infections, *STDs*, hemorrhoids, dysentery, cholera, diabetes, smallpox, vomiting, snake bites, and arthritis and coughs.

Lotus seeds contain L-isoaspartyl methyl that is needed by body in repairing proteins which is a process of anti-aging.

Lotus is a sacred and divine flower to many Asian communities.