OMG! Big Brother's NSA is dancing with glee!

"We know where you arrreeee...."

Worried about your habits and location data? Don't want the government prying into your electronic life?

No worries, Congress will surely pass the needed legislation to deal with this latest technology. And the NSA promises not to eaves drop on your shoes.

I almost drove off the road when I heard this...

A new running shoe, (or insole), has hit the market. It communicates with the Google Maps via an app, Bluetooth and your smart phone.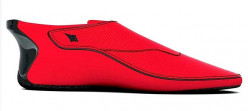 I will link to the full story below, but here are the basic details;
Using the app and Google Maps, just plot your destination. The app then communicates with your new shoes. Plotting your location as precisely as a GPS unit, and the shoes even tell you when to turn or go straight!

Time to turn left? Left shoe vibrates. And the right one vibrates for right turns of course. And just to be sure you know what to do... the shoes vibrate under your big toes when you are supposed to keep straight.

Here is the full story Lechal vibrating smart shoes use bluetooth
*ps. the shoes did have a higher purpose initially - the original design was intended to help the visually impaired get around more confidently.

Great huh? Except that all this Bluetooth/smartphone communicating is just as traceable, (and data storable), as any of your other electronic communications that NSA swears they are not actually monitoring or saving.

On the plus side, I hear a smart young entrepreneur is selling matching tin-foil hats for the really paranoid.

Wanna bet what their target market demographics are...? Are you going to rush out and get your pair?

pss. I wonder if you will have to take these of at the airport, or will they electronically shake hands with the security systems? Hmm...

Double Hmm... I wonder if they can be hacked to become a listening device too? (like your phones and computers can)


GA