The days are closing in towards the wild-card weekend and there does not seem to be a horizon no a solid resolution to Gamu Nhengu `s urgent plight. Despite the heavy, national campaigning by citizens through social networks like face book and twitter as well as lobbying through online petitions no one seem to know of her fate.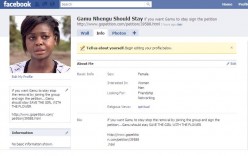 Fans have taken matters into their own hands and are grouping on the social network to exert pressure as well as signing the online petition. e.g the facebook group.Gamu Nhengu Should Stay,

pages/Gamu should be allowed to stay in the UK

, gopetition.com/petition/39588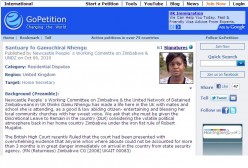 Makosi Musambazi from x-Big brother made a blunt statement saying it was a "blessing in disguise" for Gamu Nhengu to be axed out of the talent show. as she believes the Zimbabwean is not for pop culture.
�She makes music that makes people cry ... we need to get her a contract with CeCe Winans and not Simon Cowell,� said the former cardiac nurse who, like Gamu, faced deportation from the United Kingdom after going on TV.
She added: �Gamu is a fantastic singer but X Factor is not her joint. On X Factor they want to know how many people you have had sex with, how many people in your family take drugs ... you can�t sell records if you are as clean as Gamu and I guess that�s what Cheryl (Cole) meant when she said �you don�t have star quality�. That means in short �yes honey you can sing but we can�t sell you�.�

The 2010 talent saga of the year has sucked in more big fish the likes of Prime Minister David Cameroon who had to confess on a breakfast TV show that his household are favourite fans of the X Factor show, although it is unknown how much influence will come from the boss himself.

Simon Cowell`s X Factor sidekick Sinitta took to her Twitter page last night, to vent about Gamu Nhengu not making the final twelve. "Still stunned about GAMU, what is wrong with tweedy pie"??

"Sorry, have to get it off my chest boring everyone to death- anyone who cares. I need to SLAP TWEEDYS butt for not putting Gamu through!"

This afternoon Sinitta said she had still not got over the shock. She told ITV1's The Alan Titchmarsh Show: "I wanted Gamu. I am still sulking about her. She is amazing.

The truth is more than 440 000 fans one is sulking and upset. Will someone who has the power solve this mystery so we can get on with the Music.