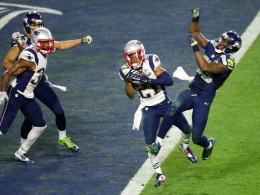 I am not sure if it was the worst; yet it indeed, it was up towards the top of that category. If their coach had called for a run; I believe there would still be enough time for a pass on the next play (my God, there was plenty of time).
It truely was unbelieveable; especially, after since such an extraordinary catch in the play before to get the Sea Hawks so close. I must text, it was even more confounding since their fullback/Beast is so extraordinary.
Quite frankly, I don't care what the percentages have been historically for a pass vs. a run that close; it should have been planned as first a run then if necessary a pass... Perhaps to many CFL minds involved...