lol thats what you get when you multi task while at work and dont have your pictures organized! And they do kind of have the same hair style



lets try this one more time . ..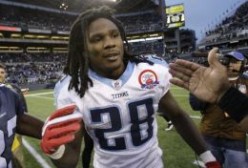 Tennessee Titans' Chris Johnson, pictured above is congratulated after an NFL football game against the Seattle Seahawks, Sunday, Jan. 3, 2010, in Seattle. The Titans won 17-13. Johnson became the sixth player in NFL history to rush for 2000 yards in a season and On September 1st, 2011, Johnson agreed to a 4-year, $53.5 million dollar contract extension - including $30 million guaranteed - with the Titans, ending his holdout.