Hey Randy, I see a couple in there I like.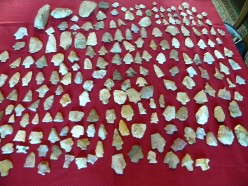 I've been looking into making a bow. [have one but it's fiberglass, and I need something that isn't junk] (rifle works but only get one small game and the rest are spooked from the shot)

But I haven't found the right tree yet, and then cure time is at least 3 months [if I pre-carve the basic figure] but is suppose to be a full year for perfection, and uncut if a year.

When I make the arrows they are going to have heads like a couple I see in the set there.

I prefer to make everything I can without modern mess.