sort by best latest
Keep calm and assess every possible solution.
I read somewhere that the people who do best in an emergency situation are those who have planned for emergencies. I don't think it matters if you have planned for that exact emergency, just that your brain is prepared to plan and think rather than go into a meltdown.
I'm trying to picture what I would do in your scenario -- help the people around me, and do whatever I could think of to make my environment safer.
Praying would be a good idea. Other than that, try to get as far inland and onto higher ground as much as you can.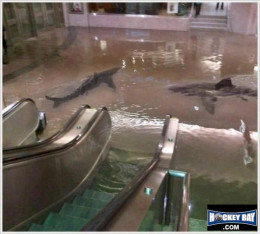 Quite simply, focus on finding shelter; for instance, every county in Florida have safe-places to evacuate to, that are indeed well supplied and quite comforting. There is no reason to panic; hurricanes/tropical storms come in quite slowly and we always know where they will fall. Most of our buildings in the United States can withstand the impact. It is important to move inland though, the surge can cause calamity along the coast, especially along barrier islands; barrier islands are much like harbor-breakwater walls...