sort by best latest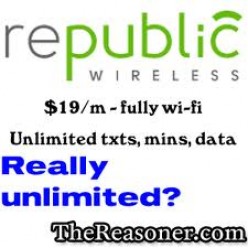 The cheapest plan in the US for Only $19 unlimited talk, text and web............
* Unlimited minutes, data, & text
* No contracts or early termination fees
* No overages, ever!
Domestic roaming is free. Although we don't offer cellular service internationally at this time, your republic wireless phone can place calls over Wi-Fi from anywhere in the world to the U.S.
I hope my answer will be helpful to you. Good luck
Here is the link for more details.
You can also try:
www.solavei.com/jsimple
Solavei is like the company listed by the other poster, where they are a MVNO. A mobile virtual network operator. Which means, they just use one of the major network providers networks for the service they provide for you at a cheaper price. Sometimes though there are other restrictions like coverage area. Solavei, is $49 plus tax, for unlimited everything, text, data, talk. There is a sign up fee of around $49, and if you have your own GSM unlocked phone you can just get a Solavei sim card pop it in, and be on your way. You can't however uses a Verizon/Sprint or any other CDMA device on Solavei. And questions, just ask me or visit the website that as more information about Solavei.