sort by best latest
Affordable motor homes? Pfft, you might still be waiting for a few decades at best.
You can get the cleanest, most environmentally friendly motor home ever made right now, provided you rob a bank to pay for it.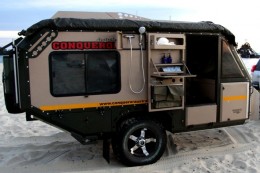 Although we don't own a RV and I'm not that interested in writing a hub on this topic I will offer my opinion. I would invest in the off-road urban escape trailer manufactured by an Australian company called Conqueror. The model I would look into is their export Commander -S. It can be had for just under 50 gs and will take you anywhere. It is chalk full of green technology and self efficient sufficiency... Although it seems small it's design is so amazing it will suffice for very comfortable living and your playground expands since you can park it anywhere. No need for paved roads...
Connorj, VERY Interesting. I'm going to check that out. From the picture it appears as if it utilizes the ultimate in space saving techniques. Fascinating.

---