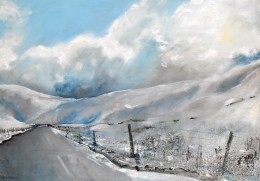 Try to always paint skies as quickly as you can to keep a fresh and immediate feel to any painting. In watercolour, it's usual to work wet in wet for skies. Damp the paper. Wet a large brush, mix 2 colours on it - blue and a wee bit yellow/alizarin or English light red for example, depending on the atmosphere you want to create. Sweep the brush back and forth horizontally, add water if it's too 'stripey'. Now 'lift' out areas using a circular motion with a round brush or paper towel. Check the shapes. Add more water to soften their edges.
Oils and acrylics; big brush- sweep in the sky using a min of 2 colours, Load another brush with white and scumble thick paint on fearlessly creating the shapes you want. Take a decorators brush and gently soften the edges where necessary.
"Glen Devon'by June McEwan,2010 oil painting.