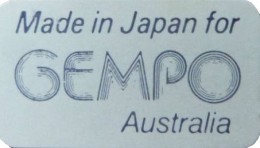 I am trying to find out more myself. I have never found any documentation on Gempo, which is of course, important in itself.
The labels on these items are usually for UCTCI - Japan.
I will add that it was not just made for the Australian market. I have seen an item listed with a Disney Land price sticker. I have a monkey citrus squeezer, a hippopotamus citrus squeezer. I also have a pig citrus squeezer with an additional label for "Collectable Classics" from the USA. I have also purchased these items from the UK.
It appears that Gempo was just an Australian importer. See image;
The internet being what the internet is has attributed these items to the an Australian importer rather than the pottery. People using the internet often use info they find without qualification.
I hope this helps some collectors.