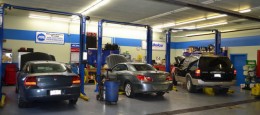 No; Having a lot of customers willing to pay you for your services earns you more money.
It's not enough to be a "great mechanic".
Running a business, marketing to attract customers, and establishing a respected reputation are very important.
If you're good at (all those things) then being an owner is more profitable than being an employee. Being the boss only looks easy.
Great cooks aren't always great restaurateurs.