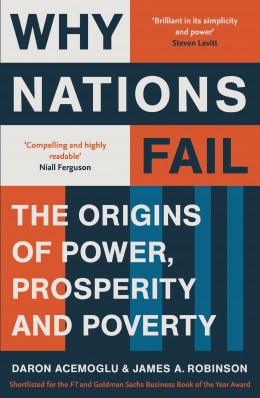 I lived in Honolulu, where a lot of people have 2 jobs of 29 hours each because ACA is based on the Hawaiian model - nobody wants to hire you full time & get stuck with providing worker's health insurance. So everybody hires part time, the workers work 2 PT jobs plus the time to take to get from one job to the other on the bus system and that's probably why Honolulu is the meth capital of the USA because people work very long hours. A long time use of meth with ruin a human for life to the point of being to stupid too work at all.

Full-time workers should not be so poor that they are qualified for food stamps -means that the US taxpayers are giving corporate welfare to big business by making wages artificially low by providing a ground deck of services to full-time workers which perpetuates the exploitation of humans.

Nations thrive when they develop "inclusive" political and economic institutions, and they fail when those institutions become "extractive" and concentrate power and opportunity in the hands of only a few.


From: http://www.livingwageaction.org/resources_faq.htm

The lowest income bracket has been getting steadily poorer and the real value of the minimum wage has steadily declined since 1968. All this has been occurring despite increasing productivity in US workplaces. Low wage workers live in extreme poverty, and cannot afford decent housing, nutritional intake, health care or basic necessities for them or their families. This is not a question of abstract market theory; this is about real people who work two and three jobs just to scrape by. Working families should not live in poverty.

Were workers able to maintain a decent standard of living on the wages of one job (in other words, if they were to make a living wage) not only could time be made for family members, but, were they inclined, workers would have time for technical, linguistic or academic coursework, have time to participate in political campaigns or union activities, or devote time to either improving their workplace or looking for a different job.