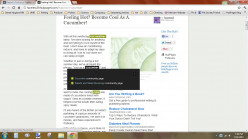 OS: Microsoft
Browser: Chrome 20.0.1132.57 m
Firefox 13.0.1

The "suggest links" tool is not working in Chrome on any of my hubs. I cleared my cache, cookies, browsing history, and restarted my computer. I then tried Firefox, which also didn't work.

I've attached a screenshot of what happens when I click the tool, then highlight a key word. The link box pops up, but contains no links to either my own hubs or anyone else's. It just contains the community pages linked to the topic.

This has been going on for 2 days. Thanks for looking into this!