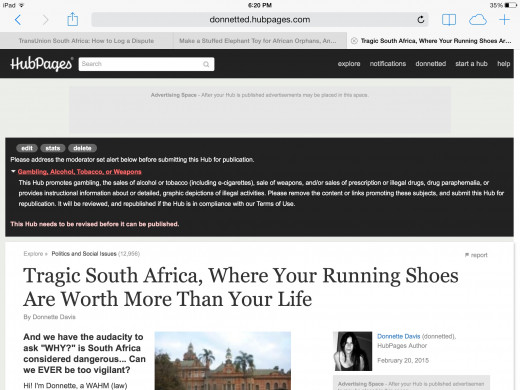 Hello
I transferred here from Squidoo with 200+ fairly decent lenses. I think 40 must since have been unpublished due to 'violations' including affiliate links, overly promotional etc.

I can't give the URL now of one that has me gobsmacked, because it has been unpublished by HubSpot, leaving me baffled beyond belief. A page dedicated to the making of toys for African orphans has been unpublished because it contains too many affiliate links (it has none) and despite my removing almost every single reference and link, remains 'overly promotional' with too many affiliate links. All that remains it to remove the one and only Amazon module.

Another page unpublished today because of the real life story of an attack on a foreign visitor to our home, and a warning to foreigners to be cautious. The crime: an Amazon module advertising pepper spray. Having removed same I see I still get the warning, that I am promoting illegal activities, drugs, illegal paraphernalia and/weapons... Hello?

Hub Spot appears not to be an advocate of human rights, children or animals, homeschooling on the cheap, or free educational resources since almost every one of those hubs have been unpublished and try as I might, if I remove any more content a skeleton will remain. Writing about real events or people also seem to questionable. Perhaps it is just me....

I am wondering if the thousands of hours of love invested into 200+ pages (lenses) many of them not containing any revenue generating links whatsoever, can actually be transformed into commercially viable Hubs which conform to the requirements, many and varied and confusing as they may be.

A hub offering Free educational resources or downloads will be unpublished if you edit it (as I just did) and they are by default excluded from affiliate links, Subject to correction but I read In to that 'revenue sharing'

I would like to close my Hub Page account but see I am short of the threshold of 50, which I believe I will forfeit if I close the account. So sad.