You misunderstand. You have taken photos without permission, copyrighted work that is illegal to republish anywhere else, and published them. That you have attributed them to someone else does not make it legal or ethical to steal the work for your own use. Only with express permission from the owner can you reuse their work, and you did not get that.

You added some text, yes, but at a guess well over half is still copied from somewhere else. The copied text is probably legal as you did not copy large sections from any specific site, but it is not what HP wants to see in a hub. Quotations are fine, a very limited amount of copy/paste is acceptable (though not ideal), but your own words need to comprise the large majority of text. Say, 80-90% at a minimum.

You could run afoul of Google as well, with the phrase "below is some information about...", followed by a link. This sort of thing is typically used by "gateway" articles; articles written solely to get a reader to click through to another site rather than provide real information for them. Google does NOT like the concept and can penalize you heavily for it, and HP is not happy with gateway hubs, either.

Consider the section devoted to hourglasses. You wrote 41 words, followed by a link and 17 words of copied text from the website. This isn't original information, it's a lead to draw the reader onto that site. Write a coupe of hundred words here. Talk of different sizes, shapes, materials, colors. How they could be used/displayed, perhaps with track lighting spotlighting the urn. Talk of the symbolism of an hourglass for ashes. Follow it with a legal picture of an hourglass: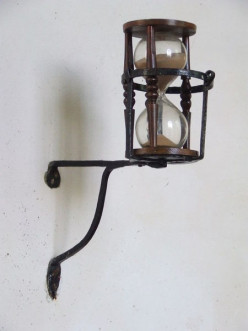 by Keith Evans, via wikimedia commons, cc 2.0

as just one example of many.

Add a link to a possible site, clearly saying it is but one of many (as you did) if you wish. Now you have given valuable information to go with that link, without using copied text or illegal photos.