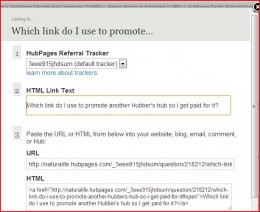 If it's the referral link you're talking about, then, at the bottom of any page in HubPages, you will find a link that says "link to this page". When you click that, you will see a box appear that tells you what you're linking to.

There are three numbers here. The first is your HubPages Referral Tracker, which includes a link if you want to know more about Trackers. You can create your own referral tracker but you don't have to since there is a default tracker already.

The second number is the HTML link text, which will show the title of the hub you're linking to but you can actually change this if you want to and the changes will reflect in the third number specifically the HTML part.

The third gives you the URL and HTML, which includes your tracker and which you can share to others. You can just copy either and paste it to wherever you want to share it to.

The photo below shows an example of what happens when I click the "link to this page" on this question. Hope that helps.